Poor Arun. After running for his life for much of Indigo Squad, Arun has it even harder in the new Human Legion book, Renegade Legion. Fighting for freedom is hard, but winning freedom is far more difficult, as Arun and his comrades are about to find out.
The Human Legion Book3: Renegade Legion is published today in Kindle eBook and in paperback. Click here for the eBook and here for the paperback.
If you enjoy this book, or one of the earlier ones, then do please leave a good review on Amazon or Goodreads. It does make a big difference to my ability to earn a living writing books. My sincere thanks to everyone who has left a review so far. Even if you thought the book stinks and told me so, I still appreciate you taking the time to read my work and let me know what you thought.
Renegade Legion's at #25 in the military sf charts on amazon.com right now. Let's see if we can get the Legion back in the top 10 where it belongs! Well, I think it belongs there, but I might be biased :-)
Posted from Tim's Human Legion [blog].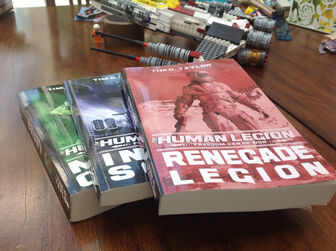 Ad blocker interference detected!
Wikia is a free-to-use site that makes money from advertising. We have a modified experience for viewers using ad blockers

Wikia is not accessible if you've made further modifications. Remove the custom ad blocker rule(s) and the page will load as expected.