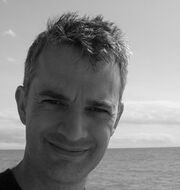 Tim C. Taylor lives with his family in an old village in England called Bromham. When he was a young and impressionable lad, between 1977 and 1978, several important things happened to him all at once: 2000AD, Star Wars, Blake's 7, and Dungeons & Dragons. Consequently, he now writes science fiction & fantasy.
It wasn't always that way. Before a series of Doctor Who novels inspired him to start writing fiction in 2002, Tim wrote first music and then software. After twenty years in the software industry, Tim took a break in 2011, setting up Greyhart Press, a publisher of science fiction, horror, and fantasy. While most of his time has been spent publishing other authors, Tim found time to complete his first two novels, a series called The Reality War, published February 2012. He started releasing a sister series of military SF novels called The Human Legion during Christmas 2014. They seem to be doing rather well. When no one's looking, he also writes YA fantasy and science fiction short stories under the secret penname of Crustias Scattermush.
In addition to being an up and coming author and literary phenom, Tim finds time to run Greyhart Press, an electronic publishing house, as the Head Literary Agent and all around Expert of all things Awesome!!!
In the real world, he is husband, Dad, sometime-brewer, and oftentimes-builder of Lego constructs to his son's designs. His favourite beer is Uplift Ale, named in honor of SF author David Brin, and available exclusively from his garage.
Format YOUR Print Book with Createspace
Last Man Through the Gate
Books Under Pen Name Crustias Scattermush
Edit
Tales from the Repository of Imagination

Treasure of the Last Dragon
The Ultimate Green Energy
Anthologies that include Tim's work
Edit
Further Conflicts
Shoes, Ships and Cadavers: Tales from North Londonshire
Short Stories
Edit
Welcome Home, Janissary (A Human Legion short story)
The Meandering Mayhem of Thogron Throatbiter (a short story)
Speak, Vaccine! Speak! (a short story)
No More Than Human (a science fiction short story)
Future Speculation (a short story)