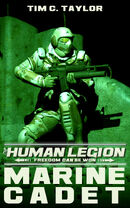 Book 1: Marine Cadet
Edit
☀2565 A.D. Five centuries ago, Earth sold a million children into slavery, the price of protection from the regional superpower. One group of slaves was bio-engineered and augmented to fight for alien officers as the Human Marine Corps.
To most alien eyes the Corps is a joke: plasma fodder equipped with third-rate cast-offs and so stupid that they go off to die actually believing they are genuine warriors.
But there are others who look deeper and see potential. To them the human Marines could be the wellspring of something far greater…
FREEDOM!
Seventeen-year old Arun McEwan is eager to start his new life as a Marine Cadet. Just three more years of drills, combat exercises and brainwashing and he could qualify as a Marine. The alternative is death.
When Arun forges an unlikely friendship with an alien scribe, he crashes into a world of treachery and conspiracy. How can he possibly survive three more years when every day brings a new deadly threat?
But survive he must because his new alien allies show him glimpses of his destiny — a vision of a better future that only he can forge.
A dream called the Human Legion.
Publication date: December 26, 2014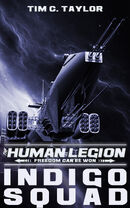 Book 2: Indigo Squad
Edit
Unlike the other Marines on board the troop ship Beowulf, when eighteen-year old Arun McEwan is woken from cryo to board an enemy ship, he already knows he will survive: his destiny to lead the Human Legion has been foretold.
But there are other factions who will stop at nothing to bring about their rival dreams for humanity's future.
Isolated on a ship rocked by mutiny, betrayal, and murder, Arun must find new allies among the most detested of the Navy crew: the freaks…
Publication date: January 2, 2015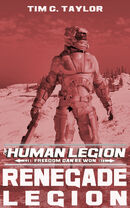 Book 3: Renegade Legion
Edit
As Major Arun McEwan readies the newly formed Human Legion to retake his home planet of Tranquility, loyalties are wafer thin and morale low. Even his closest friends harbor poisonous secrets.
And he needs everyone beside him, because the Legion must strike boldly and win allies rapidly if it is to defeat the overwhelming numbers of an enemy led by Arun's old nemesis.
What the Legion discovers on Tranquility will scar Arun's heart, and change the meaning of the word 'human' forever.
Publication date: June 6, 2015